About Door County
In Door County, there's an abundance of things to do for people of all ages.  Whether you're seeking relaxation or adventure, you'll be sure to find something to suit your interest any day, any time of the year.  The Church Hill Inn is located in Sister Bay, which is centrally located in Northern Door County.  There are many activities to do within walking distance of the Inn, and the surrounding towns are just minutes away, making it easy to drive to any destination.  We have compiled a short list of some of our favorite activities.  As always, feel free to call if you would like further information on any of these activities or if you would like to schedule a visit: (800) 422-4906.
Dining Out
Sister Bay is home to some of the finest restaurants in Door County. One of our personal favorites is Chop restaurant, located conveniently in the Country Walk shops, just behind the Inn. The restaurant features a display kitchen, wine bar and indoor and outdoor seating. With an emphasis on classic American Steakhouse cuisine, Chop is Door County's first choice for local and visiting diners seeking the highest quality steaks, fish and seafood at an affordable price.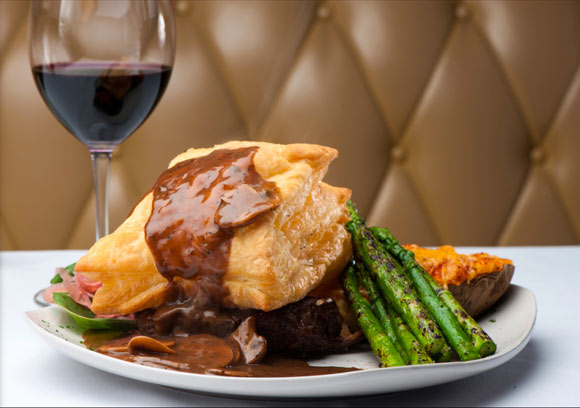 Just one mile further North, you'll find the Waterfront Restaurant. The Waterfront is renowned for creating a dining experience that rivals the brilliant sunsets seen from every table in the dining room. The cuisine at Waterfront Restaurant is prepared fresh daily and the menu changes with the availability of seasonal ingredients and inspirations of their chefs.
For additional fine dining restaurants try The Wickman House in Ellison Bay, Alexanders, English Inn, and The Whistling Swan in Fish Creek or the Lure in Sister Bay. Our favorite spots for casual dining are the Northern Grill, Sister Bay Bowl, Shoreline, and Fred & Fuzzy's.
For a traditional Door County Fishboil, you'll enjoy Pelletier's or the Old Post Office. You'll never go hungry in Door County with all of the great restaurants around, many within easy walking distance of the Church Hill Inn. Most restaurants do require reservations in the peak season and we would be happy to assist you with making those. 
Want to know about additional restaurants? Try the Door County Dining Guide
Areas of Natural Beauty & State Parks
Door County is home to some of the most beautiful state and county parks in Wisconsin.  Open year round, the parks offer nature programs, hiking, biking, swimming, ski and snowmobile trails, wildlife reserves, endless shorelines, and beautiful scenery.   Peninsula State Park is the most well-known of the parks and is located just 5 minutes south of the Church Hill Inn.  Newport State Park is about 10 minutes north of us, and is known for its rugged beauty.  Other parks worth visiting include , Whitefish Dunes State Park, Cave Point County Park & Ellison Bay Bluff County Park, and the Ridges Sanctuary.
Arts and Entertainment
Door County has always been known as an artist community.  There are many galleries throughout the peninsula that showcase a variety of talent.  To mention just a few, some local galleries include David Frykman Gallery, Fine Line Gallery, Linden Gallery, and the Edgewood Gallery.  Professional Theaters in the area offer a unique stage, with the backdrop being the nature of Door County.  The Peninsula Players Theater and American Folklore Theater always deliver outstanding performances.  If you'd like to take a step back in time, be sure to visit the Skyway Drive-in, one of only a few outdoor movie theaters operating in Wisconsin.If you're looking for live music, the county has many performers you'll enjoy.  The Peninsula Music Festival and Birch Creek Music Performance Center schedule concerts all summer which highlight many styles of music.  Also, every Wednesday throughout the summer, FREE Concerts in the Park are performed in Sister Bay, within walking distance of the inn. 
Tours and Educational Opportunities
Whether you are a newcomer to Door County or a well-seasoned tourist, there are plenty of opportunities to enrich your knowledge of the area and all it has to offer.  Door County Trolley provides entertaining and educational tours of the main peninsula, while the Cherry Train showcases the wonderful charm of Washington Island.  For historical backgrounds, visit the Noble House, the Maritime Museum, or the Anderson House.  If interested in taking courses while enjoying Door County, The Clearing and Bjorklunden offer classes that cover a wide range of topics, while the Savory Spoon and the Inn at Kristofer's offer cooking classes year-round.
Recreational Activities
Due to the vast amount of natural beauty Door County has to offer, one of the best ways to spend a day here is to enjoy the outdoors.  Fishing, boating, biking, hiking, skiing, and snow shoeing are just a few examples of the activities enjoyed by outdoor enthusiasts.  If you want to try horseback riding, Kurtz Corral offers riding for beginners and experienced riders.  Golfers enjoy their pick of several well-groomed courses such as The Orchards, Bay Ridge, and Peninsula State Park Golf Course.  For a complete list of the spectacular golf courses available throughout the County, please follow the link to Door County Golf.  The Bay of Green Bay, right off of Sister Bay is home to some of the best fishing in the State, reasonably priced, available for half or whole day excursions is Late-Eyes Sport Fishing Guide Services who specialize in local fishing, especially Small Mouth Bass, Walleye and Northern Pike. 
Organized Events
There are many organized events throughout the year that are unique to Door County.  Local festivals and holidays bring people up to the peninsula to celebrate year round.  Music, parades, crafts, food, marathons, and many more activities are planned during events.  There are so many events, that we can't possibly list them all, but a few of our favorites include Door County Lighthouse Walk and Sister Bay Blossom Fest in Spring, Fyr Bal and 4th of July Celebrations in Summer, Sister Bay Fall Fest and Pumpkin Patch Festival in Fall, and the Winter Games Festival  and Polar Bear Plunge  in Winter.  For information on upcoming events, please call us at (800)422-4906.  We'd be happy to schedule a visit any time of the year!