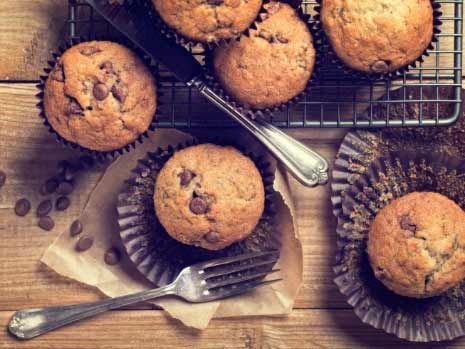 Chocolate Cappuccino Muffins
 They are so comforting and delicious — the perfect rich blend of chocolate and cappuccino. This cake-like muffin is the perfect way to start the day!
Yield: 14-16
Ingredients
2 cups all-purpose flour
¾ cup granulated sugar
2 ½ teaspoons baking powder
½ teaspoon salt
1 cup milk or half and half
½ cup butter, softened
2 Tablespoons instant coffee powder
1 egg, beaten
1 Tablespoon vanilla extract
1 cup semi-sweet chocolate chips
Preparation
Preheat oven to 375 degrees. Grease or line muffin tins with paper cups.
In a bowl, combine butter, sugar, baking powder and salt.
In another bowl, stir milk and coffee granules until coffee is dissolved.  Add butter, egg, and vanilla. Mix well. Stir into dry ingredients until blended. Fold in chocolate chips.
Divide batter among muffin pan cups. Bake 18 to 20 minutes or until centers spring back when lightly pressed. Cool for 5 minutes before removing from tins.  Serve warm. 
Notes:
For more coffee flavor add 1 Tablespoon of coffee liquor (we don't do this).
For more fun, make an icing using the coffee liquor as well.
For additional flavor add 1 teaspoon of ground cinnamon.
Instant espresso powder works well if you can find it.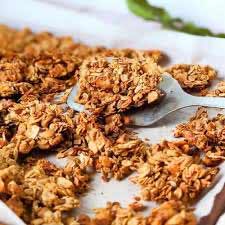 Probably our most requested recipe.  We have changed this recipe many times over the years, the original granola was darker and used molasses and walnuts.  We much prefer this lighter version.  Great as a cereal or use as a topping for French Toast.  We do.
Yield: 6 Servings
Ingredients
4 cups of rolled oats
½ cup of packed brown sugar
½ tsp ground cinnamon
1 cup of shredded sweetened coconut

 

½ cup of melted butter
½ cup of honey
Preparation
In a large mixing bowl, combine the oats, brown sugar, cinnamon and shredded coconut, toss to mix.  
In a saucepan on low heat, melt the butter and stir in the honey.  Don't boil.  Pour the honey butter mixture over the oats and mix well.
Line a large baking sheet with wax or parchment paper.  Spread the granola mixture evenly and thinly across the sheet and bake in a preheated 275 degree oven for 35 minutes until the mix is an even golden brown color.
Remove from the oven and let cool.  As the granola cools it will become crunchy and brittle.  Once the granola is completely cool, break apart but leave some clumps…  they're the best part.  
Notes:
Can be stored for a couple of weeks in an air tight container

 

Feel free to add raisins, toasted almonds or chia seeds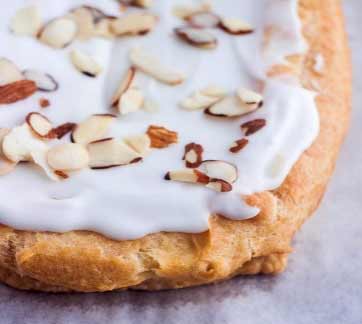 An impressive pastry that your guests won't forget, a long time Inn favorite.  The flaky crust compliments the baked custard topping, which is finished with a sweet icing and toasted sliced almonds. 
Yield: 2 Puffs
Pastry:
½ cup butter, softened and diced
Dash of salt
1 cup flour
2 Tablespoons water
Mix on medium 1/2 cup of butter with a dash of salt and 1 cup of flour until butter pieces approximately pea-sized clumps. Sprinkle 2 Tbs of water into mixture. Mix until dough no longer sticks to bottom of bowl. Divide dough in two and roll into circles, about the diameter of a dinner plate.
Custard Puff:
½ cup butter
1 cup water
1 cup flour
1 Tablespoon almond extract
6 eggs beaten
In a medium saucepan, heat 1/2 cup of butter and 1 cup of water to a rolling boil. Remove from heat, add 1 cup flour, beaten eggs and almond extract. Keep stirring vigorously until completely smooth and glossy.  Divide and evenly spread this mixture over the pastry base. Bake at 350 degrees until topping rises slightly and becomes a golden brown, about 1 hour. Let cool.
Almond Icing
3 cups confectioners' sugar
Milk
2 teaspoons almond extract
½ – 1 cup toasted sliced almonds
In a large mixing bowl combine confectioners' sugar, almond extract and enough milk to make a smooth and slightly stiff consistency.  Frost the puffs while still slightly warm and sprinkle with toasted almonds.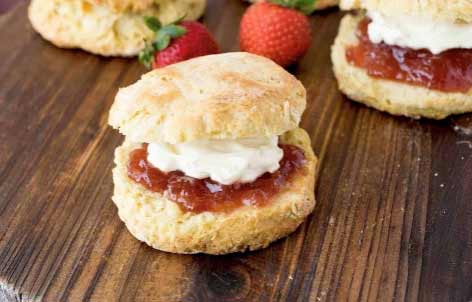 Easy to make and with only a few ingredients. These are an Inn favorite and they are a perfect accompaniment to a warm cup of tea and good company.  Innkeepers Note:  To be proper English scones (pronounced like phones), they must be round, none of those triangle nonsense!
Yield: 10
Pastry:
2 cups all-purpose flour
1 ½ Tablespoons baking powder
1/3 cup sugar
½ teaspoon salt
10 Tablespoons butter
½ cup buttermilk
1/3 cup currants (or raisins)
1 beaten egg for brushing
Preparation  
Preheat oven to 425 degrees.  Place parchment or wax paper on a baking sheet.  
Combine the flour, baking powder, sugar, and salt by hand.  Add the chopped butter (the butter must be cool, not room temperature) and mix till you get a crumb like texture.  Add the buttermilk and mix until the ingredients are just incorporated.  Fold in the currants.
Roll the dough out on a well floured surface to about 1 – 1 ½ inch thick and cut out the scones using a 2″ cookie or biscuit cutter.  Brush with buttermilk or beaten egg.
Bake for approximately 15 minutes, or until golden.
Notes
A helpful hint is to work relatively quickly and handle the dough as little as possible to help the dough stay light so that your scones get a good rise.
Dust cookie cutter with flour to help avoid sticking.
Serve with strawberry or raspberry preserves and clotted cream or homemade whipped cream.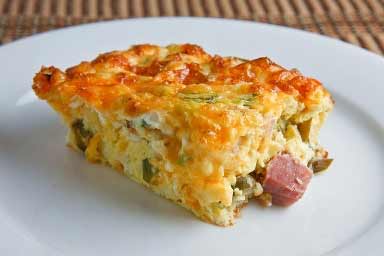 A deliciously easy breakfast soufflé with a Mediterranean twist. 
Serving Size: 16
Preparation Time: 20 minutes
Dry Ingredients:
6 cups frozen O'Brien Potatoes
2 cans marinated artichoke hearts, drained and broken apart
2 cups of diced ham
2 cups grated Cheddar cheese, grated
½ cup Parmesan cheese, grated for filling
2 Tblsp dried chives
Wet Ingredients:
mustard
20 eggs
butter for greasing pan
½ cup of Parmesan cheese for topping
Directions:
Combine all of the dry ingredients together in a large bowl until well mixed.
Grease a 9" x 11" baking dish with melted butter and fill with the dry artichoke and cheese mixture.
Combine the mustard and the eggs in a blender and blend thoroughly.  Pour the egg mixture over the ingredients in the casserole dish.  Cover and let rest for at least an hour (can be kept overnight in the refrigerator if desired).
Bake in a 350 degree preheated oven for about 1 1/2 hours, or until the eggs are almost set.  Remove from the oven and make an incision in the center of the casserole to allow even cooking, sprinkle the remaining parmesan cheese over the top, and return to the oven for 15 minutes at 325 degrees.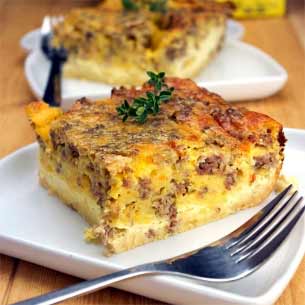 A comfort dish that will be the star of your breakfast or brunch. Can be made the day before and refrigerated so you don't have to wake up too early.
Yield: 16
Ingredients:
4 cups of frozen O' Brien potatoes
1 ½ pounds Jimmy Dean pork sausage
4 cups shredded sharp cheddar cheese
20 eggs
1 Tblsp Dry English mustard
¼ cup Milk
Preparations:
Preheat oven to 350 degrees.
Brown and drain pork sausage over medium heat. Set aside.
Spray a 9 x 13" glass baking pan with non-stick spray. Layer the bottom of the pan with O' Brien potatoes, followed by a layer of ½ of the sausage and 2 cups of cheese, then layer the remaining ½ of sausage and top with the remaining 2 cups of cheese.
Blend the eggs, dry mustard and milk together, then slowly pour into the pan over the layers.
Cover with foil.
If made ahead, remove pan from refrigerator 30 minutes before baking. Bake uncovered for about 1 ¼ hours in preheated oven, or until a knife inserted in center comes out clean. Let rest for 10 minutes before cutting and serving.
Notes
We used to make this dish with a buttermilk biscuit base.

We now use potatoes, so the dish is gluten-free.
Important to let rest so the dish sets before cutting.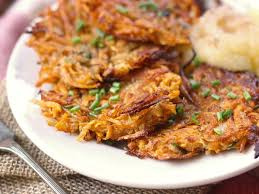 No matter what your nationality is, you've probably had a version of these potato pancakes in the family. Our recipe is one that was passed down in Mike's family for generations. We slightly adapted the original recipe so it works well on a griddle.  Perfect for breakfast, brunch or as a side dish with dinner.
Yield: 10-12 Pancakes
Ingredients:
 

4 cups Russet potatoes peeled and grated*
¾

 

cup flour
½ cup grated parmesan

 

4 eggs
½ cup melted butter
3/4 teaspoon black pepper
1 teaspoon salt
1 teaspoon garlic powder
3 tablespoons dry onion flakes

 

½ cup dried chives
2 tablespoons of vegetable oil

 

Oil for frying
Instructions:
Mix dry ingredients in a large bowl.  Blend eggs with 2 tablespoons of vegetable oil and mix thoroughly with dry ingredients.  Spoon the pancake mix into a hot oiled frying pan or griddle and gently press to slightly flatten.  Cook for about 5 minutes and turn over to cook for another 3 minutes or until a golden brown color on both sides
Notes:
*We use rehydrated dried and shredded hashbrowns, taste great and are much simpler to work with.

 

Thawed frozen hash browns work well too.
If using freshly grated potatoes, make sure to remove as much moisture as possible.
We use dried onion flakes to save time, but you may substitute a medium chopped onion if you prefer.
To ensure that the oil is hot enough, pancakes should sizzle when dropped in. If oil is too hot, the outside will crisp up before the inside is thoroughly cooked.
Serve with applesauce or sour cream.
Enjoy a Unique Door County Experience